PONK (FREDDY KNOP) /
DAISUKE TANABE
froggi:29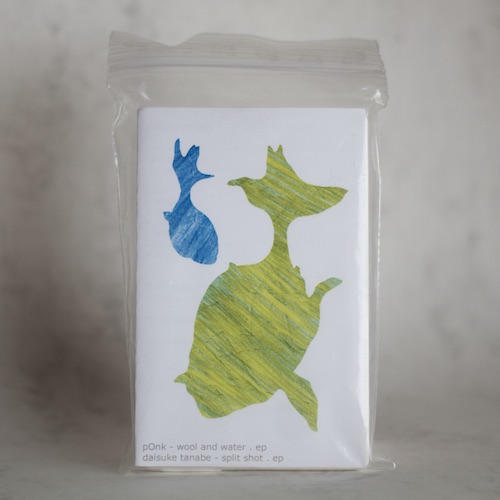 tracks:
pOnk (Freddy Knop) - "wool and water" ep:
01. boat
02. stream
03. rushes
04. arms
05. sleeves
06. elbow
[
wool and water snippet
]
Daisuke Tanabe - "split shot" ep:
01. 21
02. villa
03. y
04. after
05.
where there
06. how lucky you are
07. few min before
[2010]
pOnk is combining tripping grooves with hip hop influences and post-rockish melodies. the concept behind the ep was to only use an analogue drum computer beats, bass guitar, found sounds and celesta.
Daisuke Tanabe creates spherical, yet very playful collages of electronic and organic sounds. his tracks on the tape were all created under the name Cat Eat Mosquito, which marks his earlier works. the two sides of the tape come together very well; although they sound pretty different they share this specific atmosphere.